Deck and Patio Trends to Inspire Your Project in 2022
Homeowners should plan to spend more time outdoors than ever before. Why? Because decks and patios are becoming extensions of homes in ways we've never seen before. From entertaining to relaxing and exercising to cooking, there are many things to be thrilled about when it comes to deck and patio design. With so many design possibilities out there, we've decided to narrow down your options to the most popular ones. That's why we created a list of deck and patio trends to inspire your project in 2022.
Outdoor Kitchens
With the drastic rise of outdoor entertaining and cooking, outdoor kitchens are one of the top deck and patio trends that most homeowners are excited about. This extends more than just a BBQ. There are now various types of outdoor kitchens available with varying amenities. For example, a satellite kitchen can enhance a smaller deck by adding features like a pizza oven or grill. These features can also be placed near the outside door for convenience. Another great option is to install an independent kitchen. We're seeing many homeowners adding elements such as sinks, refrigerators, storage, and prep space. If you want to enjoy one of the coolest patios ever, having an outdoor kitchen is a must!
Vegetable Gardens
Another major trend we've seen with homeowners is the popularity of consuming organic, home-grown foods! This comes as no surprise as we've seen ourselves spending more time at home in the last few years. As such, many have turned to gardening and micro gardening. From corn to tomatoes, more and more homeowners are opting for home-grown, organic vegetables to enhance their meals. This is a great option for homeowners with decks and patios of all sizes, as there are many ways to grow your veggies in spaces of all shapes and sizes.
Yoga Studios
With the rise of worries and stress across the world after the pandemic hit, many homeowners are looking for ways to destress and improve their overall health. Many have been turning to yoga as a result. While doing yoga indoors is good, nothing compares to the fresh air and natural noises of nature. If you're looking to create a space in your home for meditation or working out, you may want to consider designing a mini yoga studio on your new patio or deck.
Relaxation Hubs
Another hot deck and patio trend that's making its way to southern California homes are relation hubs. These are basically relaxing sitting areas where you can essentially do anything you want, such as rest, read, or do any of your personal hobbies. Relaxation hubs usually have plenty of seating areas, drapey, and some form of shade for those hot days you want to spend outdoors. Creating a beautiful and peaceful environment with the use of flowers and other decor is an important aspect of these spaces.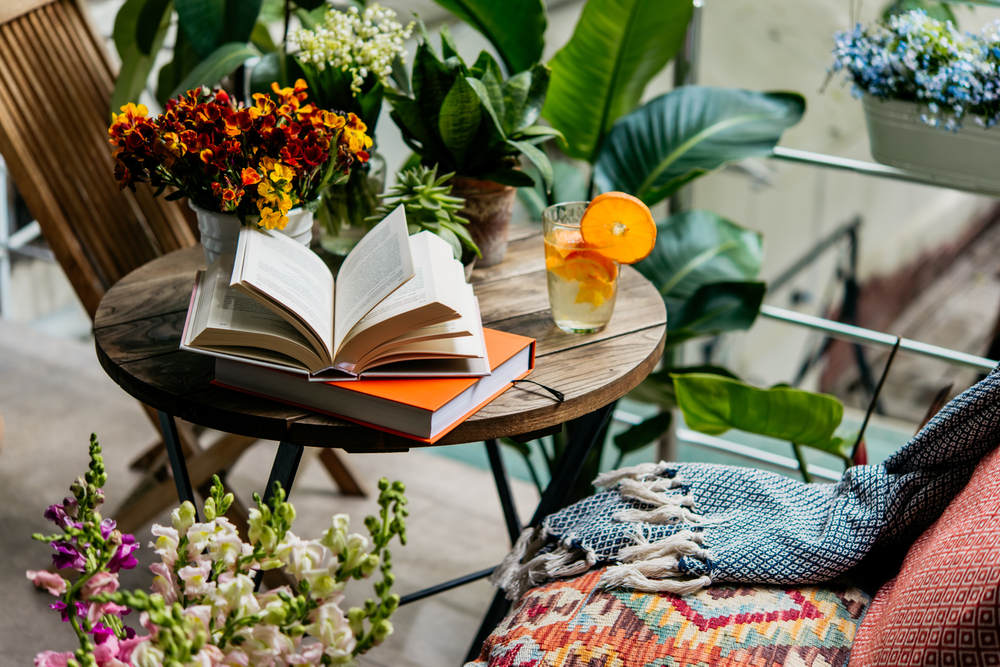 Make Your Dream Deck/Patio a Reality!
When it comes to decks and patios, the possibilities of what you can do are infinite. Whether you love cooking outdoors and entertaining, or you're all about taking naps and reading your favorite book, you can make your deck/patio your favorite place out of your entire home! We hope these deck and patio trends help inspire your project! If you're ready to make your dream deck/patio a reality, the expert team at Decks & Patios can help! Give us a call at (866) 572-0527, or click here for a FREE quote!