The Benefits of Adding a Porch, Deck, or Patio to San Diego Your Home
If you're looking to inject new life into your property, one of the best home improvement projects you can tackle is adding a porch, deck, or patio to your home. Having a place where you can sit and enjoy your morning coffee or invite friends and family for a barbecue is the best way to fully enjoy your house. This blog will go over the benefits of adding a porch, deck, or patio to your San Diego home and why it's a smart investment for any home!
It Gives you More Space to Enjoy Life
One of the greatest benefits of adding outdoor spaces like porches, decks, and patios to your home is that it increases the space you have for the lifestyle you enjoy. Benefits these spaces offer include:
A private outdoor space to relax and enjoy pleasant weather
Additional seating for guests for entertaining and reunions
More square footage, which is a major appeal for potential homebuyers
Saves You Money
Outdoor spaces such as porches, decks, and patios are a highly efficient way to add character to your San Diego home in an affordable way. Consider these money-saving facts:
These outdoor spaces usually don't require homeowners to invest in common home improvement materials, such as drywall, carpeting, plumbing, tile, insulation, or other pricey materials.
Decks and porches don't usually count as a living space, so they won't increase your taxable square footage or increase your property tax.
Because homebuyers usually look for these features when searching for a home in San Diego, it will boost the perceived value of your home if you ever wish to sell.
Offers Comfort for Guests
If you enjoy entertaining friends and family outdoors, you'll benefit from the atmosphere and amenities these outdoor spaces provide. With a newly installed porch, deck, or patio, you and your guests can enjoy:
The same comfort that indoor areas offer, making it more pleasant for enjoying outdoor activities such as barbecues.
Shelter from unpleasant weather when approaching your front door or spending time in your backyard.
A place to enjoy conversation, the scenery, or food and drinks!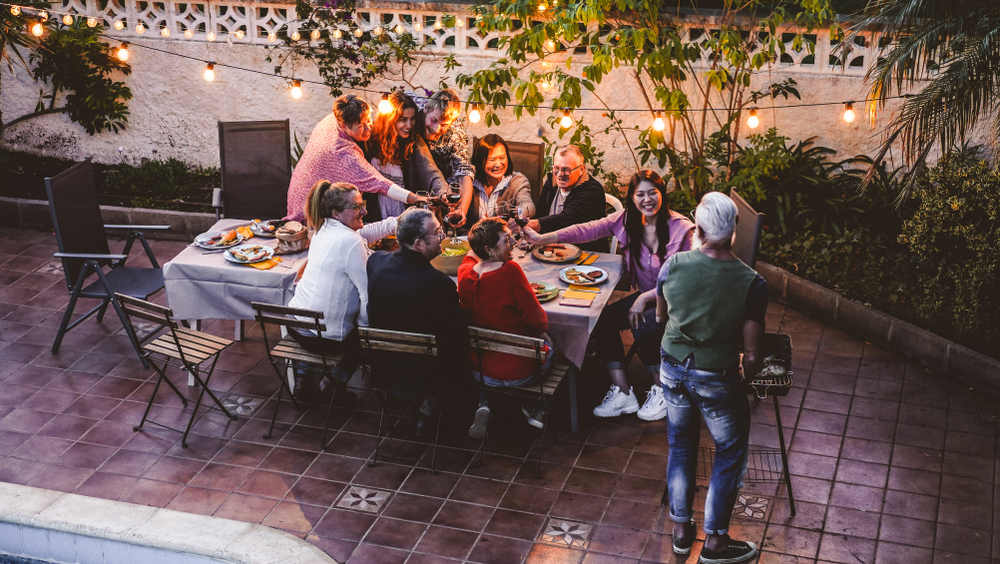 Creates Greater Outdoor Enjoyment
One of the best benefits of adding a deck, patio, or porch to your San Diego home is how well it enhances your ability to enjoy the outside world. It's easy to stay cooped up in your house all the time—especially if you have an unpleasant yard. It's actually good for you to spend time outside! Depending on the features of your deck, patio, or porch and the time of year, your outdoor space can:
Provide a firm, comfortable flooring for you to walk on in either slippers or barefoot
Offers a roof to shield you from the rain and sun
Screens out inspect and pests
Keeps the area cool on hot days
Gives you a fun, relaxing space to enjoy some fresh air
Adds a Touch of Beauty
There's nothing that increases the curb appeal of your home more than adding a beautiful porch, deck, or patio! Home improvement projects that focus on the house's exterior look and usability can add:
An attractive focal point to welcome guests
A gorgeous design and look that makes your home stand out and be the star of the neighborhood
A pleasing space that allows you to add a personal touch and express your style. It allows you to extend the design taste outside of your home as well as inside!
Add Beautiful Outdoor Spaces to Enhance Your San Diego Home
Your home should be a comfortable, inviting refuge that enhances your lifestyle—both inside and out. Adding a porch, deck, or patio to your home is one of the best projects that will boost the value of your home and enhance your enjoyment of your house all year long! We hope this blog helped you see the benefits of adding a porch, deck, or patio to your San Diego home. If you would like to build one for your home, Decks & Patios is the best team for the job! We only use premier, appealing, long-lasting materials to build porches, decks, and patios that homeowners will love! Ready to get started? Give us a call at (866) 572-0527, or click here for a free quote!